For Vitamin B12 Deficiency - B12 Nutritional Deficiency - Weight Control - Pernicious Anemia - Schilling Test
Please Note We have the 30ml and 10 ml sizes from Sterimax in stock and the 10ml and 1ml sizes from Sandoz, as Sandoz no longer makes the 30ml B12, only the 10ml and 1ml.

Vitamin B-12 is an important vitamin that you usually get from your food. It is mainly found in meat and dairy products. Vitamin B-12 helps make red blood cells and keeps your nervous system working properly.


***This item does not come with syringes or needles.***
Needles are on SALE now. Don't forget to get themt!
Generic of Rubramin PC®
Generic Name: CYANOCOBALAMIN INJECTION USP
Therapeutic Area (AHFS): Vitamins/Vitamin B Complex
Dosage Form: injection, USP
This Vitamin B-12 shot can be used at home as an injection, under instruction of a doctor. Before using this medicine, a health care professional will provide detailed instructions for appropriate use of this medicine. Ask any questions that you may have about this medicine or giving injections. Store this medicine as directed.
Cautions
DO NOT TAKE large doses of vitamins (megadoses or megavitamin therapy) unless directed to by your doctor. DO NOT STOP USING THIS MEDICINE without first checking with your doctor. IT IS IMPORTANT that you keep all doctor and laboratory appointments while you are using this medicine. BEFORE YOU BEGIN TAKING ANY NEW MEDICINE, either prescription or over-the-counter, check with your doctor or pharmacist.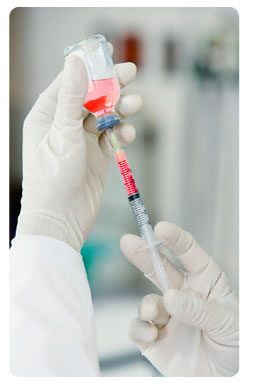 Rubramin PC® Description
Rubramin PC® (Cyanocobalamin)
Contraindications
This preparation is contraindicated in patients who are sensitive to cobalt and/or vitamin B12. As this product contains benzyl alcohol, it should not be used in newborns or in people who are sensitive to benzyl alcohol.
Warnings
Patients who have early Leber's disease (hereditary optic nerve atrophy) have been found to suffer severe and swift optic atrophy when treated with vitamin B12.
Fatal hypokalemia may occur when severe megaloblastic anemia is treated intensively with vitamin B12, as a result of increased erythrocyte potassium requirements.
---
Precautions
General
Doses of vitamin B12 exceeding 10 mcg daily may produce a hematologic response in patients who have a folate deficiency. Indiscriminate administration of vitamin B12 may mask the true diagnosis of pernicious anemia.
Vitamin B12 deficiency that is allowed to progress for longer than three months may produce permanent degenerative lesions of the spinal cord. Doses of folic acid greater than 0.1 mg per day may result in hematologic remission in patients with vitamin B12 deficiency. Neurologic manifestations will not be prevented with folic acid, and if not treated with vitamin B12, irreversible damage will result.
Laboratory Tests
Patients with pernicious anemia have about three times the incidence of carcinoma of the stomach as the general population, so appropriate tests for this condition should be carried out when indicated.
Drug Interactions
Neomycin, colchicine, para-aminosalicylic acid, or excessive alcohol intake longer than two weeks may cause malabsorption of vitamin B12. Chloramphenicol and other drugs having bone marrow suppressant properties may cause a lack of therapeutic response to vitamin B12; this effect may be due to interference with erythrocyte maturation.
Drug/Laboratory Test Interactions
Most antibiotics, methotrexate, and pyrimethamine invalidate folic acid and vitamin B12 diagnostic microbiological blood assays.
Carcinogenesis, Mutagenesis, Impairment of Fertility
Long-term studies in animals to evaluate carcinogenic potential have not been done. There is no evidence from long-term use in patients with pernicious anemia that cyanocobalamin is carcinogenic. Pernicious anemia is associated with an increased incidence of carcinoma of the stomach, but this is believed to be related to the underlying pathology and not to treatment with cyanocobalamin.
Pregnancy
Pregnancy recommendation: compatible. Adequate and well-controlled studies have not been done in pregnant women. However, vitamin B12 is an essential vitamin and requirements are increased during pregnancy. Amounts of vitamin B12 that are recommended by the Food and Nutrition Board, National Academy of Science-National Research Council for pregnant women (4 mcg daily) should be consumed during pregnancy.
Nursing Mothers
Breast feeding recommendation: compatible. Vitamin B12 is known to be excreted in human milk. Amounts of vitamin B12 that are recommended by the Food and Nutrition Board, National Academy of Science-National Research Council for lactating women (4 mcg daily) should be consumed during lactation.
Vitamin B12 appears in the milk of nursing mothers in concentrations that approximate the mother's vitamin B12 blood level.
Pediatric Use
Safety and effectiveness in pediatric patients has not been established.