To gradually lighten hyperpigmented skin areas such as freckles, melasma and solar or senile lentigines.
Contains 4% hydroquinone USP in a water-washable emollient cream. Ultraquin is used to lighten the dark coloured patches of skin( also called melama, liver spot, age spots, freckles) caused by pregnancy, birth control pills, hormone medicine or injury to the skin.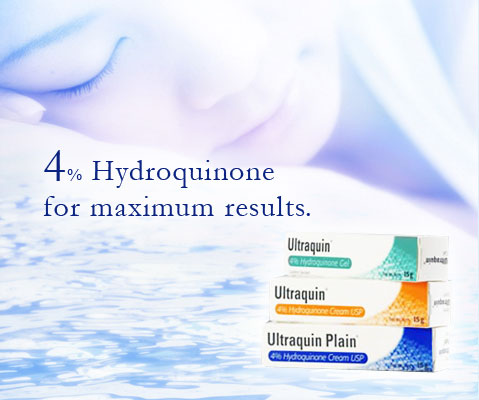 Hydroquinone, which is well known for its skin whitening properties, is the key ingredient in Ultraquin®. 

Hydroquinone produces a reversible depigmentation (lightening) of the skin by inhibiting melanin production.
Ultraquin is available without a prescription.
For day time treatment:
- all skin types: Ultraquin Cream with sunblock
- oily skin types: Ultraquin Gel with sunblock
For night time treatment:
- Ultraquin Plain Cream
Caution:
Before treatment, test for sensitivity by applying Ultraquin to a small patch of unbroken skin
(one cm square). Commence treatment if no redness occurs in 24 hours. Discontinue treatment if irritation
or allergic response develops. Ultraquin should not be used on children under 12. Sunlight or ultraviolet light exposure will lead to repigmentation and will slow down or prevent the fading (depigmenting) action of Ultraquin.
Directions:
Apply Ultraquin topically in the morning and at bedtime or as directed by a physician to areas you wish to depigment. Application should be restricted to areas no larger than face, or neck, or hands and arms.